Boston is known for its delicious food, and there's no shortage of places to eat well while visiting this city. But if you're a newbie or you don't know where to start, here are 8 of the best foods to try while in town.
For a taste of the Indian subcontinent without going to India, head to Singh's in Dorchester for some excellent roti. These crispy, buttery flatbreads are stuffed with curried stew or spicy chickpeas, and are served with hot sauce.
Recommended:- 8 Best Places to Visit in the United States
1. Boston cream pie
Boston cream pie is a show-stopping dessert that was dreamed up in the 1800s. It originated at the Parker House Hotel in Boston and is still made here today.
It's a classic trifecta of tender sponge cake layered with rich pastry cream and topped with chocolate ganache. It's the perfect dessert for any occasion!
What's more, it's also the official state dessert of Massachusetts. Cool facts:
The original Boston cream pie was created in the late 1800s at the Parker House Hotel in Boston. It was a very popular cake at the time, and it even became a Betty Crocker cake mix!
2.Clam chowder
Clam chowder is a comforting soup that's a staple for many New Englanders. This popular dish is a combination of small pieces of clams, bits of vegetables, and a soup stock.
The ingredients can be varied depending on the region and taste preferences, but it's a deliciously satisfying dish to enjoy during cold weather. Whether you prefer a creamy base or a bold red broth, there are plenty of chowder recipes to suit your tastes.
To prepare a classic New England chowder, you'll need some clams, onion, garlic, celery, flour, milk, and broth. You can find these items at most grocery stores.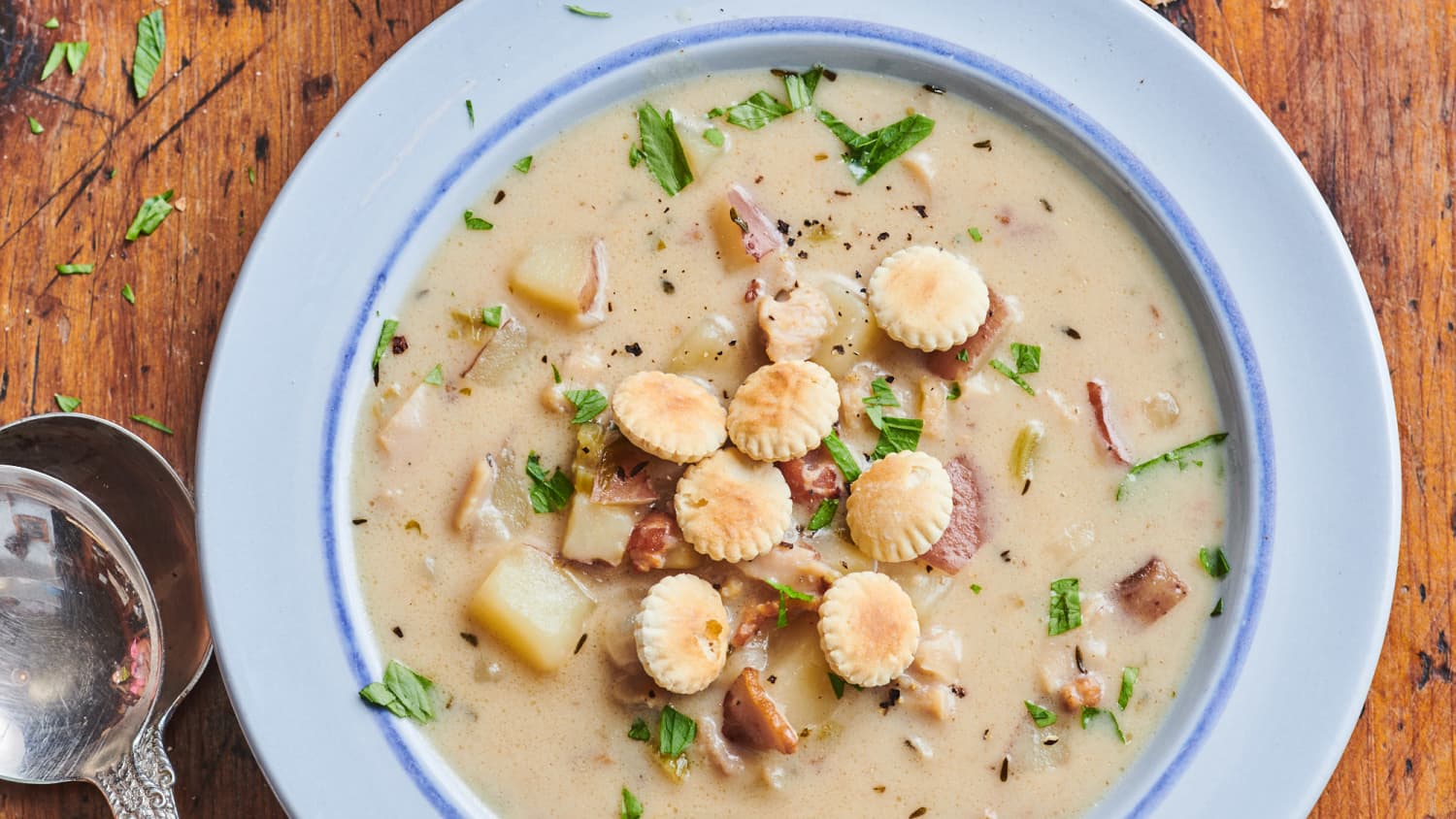 Typically, you'll want to shuck the clams before cooking. This allows you to use the clam juice as a liquid base for the soup, which will give it extra flavor.
If you're looking to try a classic chowder, there are plenty of places in Boston to get one. You'll find classic chowder recipes at casual pubs and elevated takes at fine seafood restaurants, so there's a dish for everyone!
3.Frappes
A frappe is a cold drink that can be made with many different ingredients. Most of the time, it is made with coffee but you can also make them with other drinks like teas and juices.
Frappes can be a lot of fun to make and serve. They are a popular beverage in the Boston area and can be served in many different locations.
The drink was first invented in 1957 when Nestle representatives demonstrated an instant chocolate drink at the Thessaloniki International Fair. The drink was made by mixing the granules with water and ice cubes in a shaker.
It is similar to a milkshake but has a slightly different texture and taste. It can be made with any type of ice cream and can be topped with other toppings.
It is one of the most popular and well-known beverages in the world. It was invented by Dimitris Vakondios, a Greek instant coffee salesman, who wanted to find a way to make the drink more enjoyable for his customers.
4.Lobster rolls.
Lobster rolls aren't just a staple of New England cuisine, they're also a favorite comfort food for many people. They can be found in a variety of forms at restaurants and seafood shacks all over the city.
The lobster meat makes the difference in these rolls, so you want to make sure to use big chunks of the tail and knuckle parts, which are sweet and tender. But be sure not to overdo it with the claw meat or you'll end up with a dry, flavorless roll.
For the buns, a traditional top split, white bread hot dog roll is best. They are light and soft and toast beautifully in a skillet with butter on them.
You can add a variety of toppings to your lobster roll, but it is important to keep the ingredients authentic and not add too many different ones. Some popular additions include avocado, bacon, pickled mustard seeds, chives, tomatoes, cucumbers, and Old Bay seasoning.
Cusser's is one of the most relaxing and fun places to go in Boston, serving up delicious lobster rolls. Their rotating cocktail menu is also a must try.
5.Roast beef sandwich
If you are looking for a hearty meal that will fill you up and satisfy your taste buds, you have to try the roast beef sandwich. It is a perfect way to enjoy a large portion of meat, cheese and au jus sauce.
It is not only delicious but also very nutritious as well, making it a great option to prepare ahead for a meal or lunch. You can prepare a whole batch of these sandwiches and store them in an airtight container until you are ready to eat them.
You can find a variety of vegetables that pair well with the roast beef. These can include mustard spinach, kale, cabbage, cooked carrots and bok choy.
This sandwich can be made healthier by choosing a low-fat cheese, like provolone or mozzarella. You can also cut back on the calories by using salad dressing instead of mayonnaise, which is often laden with sugar.
The North Shore is home to a number of restaurants that offer excellent roast beef sandwiches, many of which have been around for decades. Some of these are famous for their roast beef, others for their other specialties, such as fried clams or Greek pizza.
6.Yankee pot roast.
There is nothing more comforting than a hearty, fall-apart pot roast with tender root vegetables in a rich gravy. You can make a slow cooker version in just about any size and shape of pot, but the most classic recipe is for a big beef cut called a chuck roast.
It is seasoned with salt, pepper and herbs and browned on the outside. It is then braised in a broth or stock until fall-apart tender.
The best way to cook a pot roast is with a Dutch oven or a slow cooker. This makes it easy to keep it warm and to add vegetables throughout the cooking process.
When making a roast, it's important to cook it long enough to break down the meat fibers. Undercooked pot roast will be tough and chewy.
7.Oysters
Oysters are bivalve mollusks that can be found in many oceans throughout the world. They are filter feeders and are an important part of the marine ecosystem.
They filter the water with their gills, which are a valve that opens and closes at narrow ends to draw in water from the surrounding environment. The oyster can hold two to three gallons of water in its body at one time, and it filters out all the waste particles and organic debris from the water.
Depending on the type of oyster, the taste can vary quite a bit. They can be salty, sweet, earthy or creamy in flavor and texture.
Oysters are a protein-rich food that is also low in calories and contains essential vitamins and minerals, including zinc. Eating an adequate amount of oysters can contribute to a healthy body, while too much may have negative health effects.
8.Fenway Frank
It's no secret that a trip to Boston isn't complete without eating a Fenway Frank. The classic brownish-red tube of pork and beef is slapped on a New England roll — steamed white bread, no less.
When Fenway Park parted ways with its original hot dog manufacturer in 2009, it partnered with Kayem Foods to revive its old favorite. The new recipe, which has been sold at the ballpark since 2014, is a bit more flavorful but still maintains the integrity of the classic.
The Red Sox and Kayem have a strong bond, as Kazimierz Monkiewicz was born in Poland and started his company in Massachusetts. So the team is very close to Kayem and the Frank.
In addition to Kayem, the park has teamed up with Hebrew National to serve their big, premium quality kosher all-beef hot dog. They're sold at the stadium and can be found in several grocery stores throughout the region.