If you're planning an Italy trip, then you've come to the right place. We've rounded up 8 of the best places in italy to visit!
No trip to Italy would be complete without a visit to Rome. The Eternal City is one of the most beautiful cities in the world, with every street, building, town square, and park breathing centuries-old history!
Recommended:-The 8 Best Places to Visit in Africa.
1.Rome.
Rome is home to numerous Roman sights and excavations that help make it a top tourist attraction. It also features some of the most beautiful and historically significant churches in the world.
Whether you're a religious or an art lover, there are a lot of things to see in this city that can easily fill up your entire vacation. The Colosseum, Vatican Museums and the Sistine Chapel are all must-visits for anyone who plans on visiting Rome.
The Pantheon is another historic site that helps make Rome famous. It was built in around 126 AD and still retains a great deal of its original detail.
If you're an art fan, then a trip to Rome should include a visit to the Galleria Borghese, one of the world's most impressive museums. It houses an extensive collection of paintings, sculptures and other artworks by European artists from the 15th to 18th centuries.
Another must-see is the Domus Aurea, excavations of the Nero's Golden House. This is a unique experience where you can take a guided tour of the excavations and experience what the palace must have looked like in Nero's time through virtual reality glasses.
2.Venice.
Venice, a floating city built on a lagoon, is one of the most beautiful, romantic, and historic places to visit in Europe. Known for its canals, gondolas, and awe-inspiring architecture, Venice is a cherished tourist destination that is often on everyone's list of top destinations to see in Italy.
Venice is made up of more than 100 small islands that are built on a lagoon in the Adriatic Sea. The streets of the city are canals and the crossings are bridges, a result of Venice's early settlers draining the lagoon and digging canals to make it a city.
The city's rich history and enviable culture have left its mark on European art. If you're an art enthusiast, check out the Gallerie Dell'Accademia, a museum that houses artwork from pre-19th-century Venetian artists.
The city's maritime history is reflected in the Museum of Naval History. This impressive institution displays a variety of models, artifacts, and votive paintings that relate to Venice's illustrious sea power history.
3.Amalfi Coast.
The Amalfi Coast is one of Italy's most famous coastal destinations, attracting thousands of visitors every year. It's home to jaw-dropping scenery, enchanting coves and picturesque towns that hug the mountains and overlook the sea.
A sun-warmed jewel, the Amalfi Coast is home to a world-class gastronomic tradition and small towns with priceless historical heritage. It's also a perfect destination for families as it offers a great mix of beach life and cultural attractions.
You can spend a day strolling through Amalfi's quaint streets or heading up the hill to see the Duomo di Sant'Andrea. Here you'll find a beautiful church with geometric patterned facades, striped columns and Majolica tiled domes.
There are also many fascinating historic sites to discover here, including the Duomo di Sorrento, a gorgeous cathedral bursting with ornate frescoes and cloisters. The gardens at Villa Rufolo and Villa Cimbrone are a must-see too.
You can also head up the mountain to Agerola, a peaceful alpine-style town high in the Alps that offers a unique place to explore. It's also a great base for Amalfi Coast boat and road trips.
4.Florence.
The cradle of the Renaissance, Florence is an absolute must-see for any traveler visiting Italy. It's packed with incredible art galleries and monuments, and its historic centre is a World Heritage Site.
It's also a playground for culture vultures. You'll find a veritable chocolate box of Renaissance masterpieces in the city's museums and galleries, from Michelangelo's David to Caravaggio's portraits.
There are also a plethora of UNESCO-listed churches, palazzi and academies to explore. The stunning Basilica di Santa Croce, with its imposing facade and stunning interior, is one of the most impressive.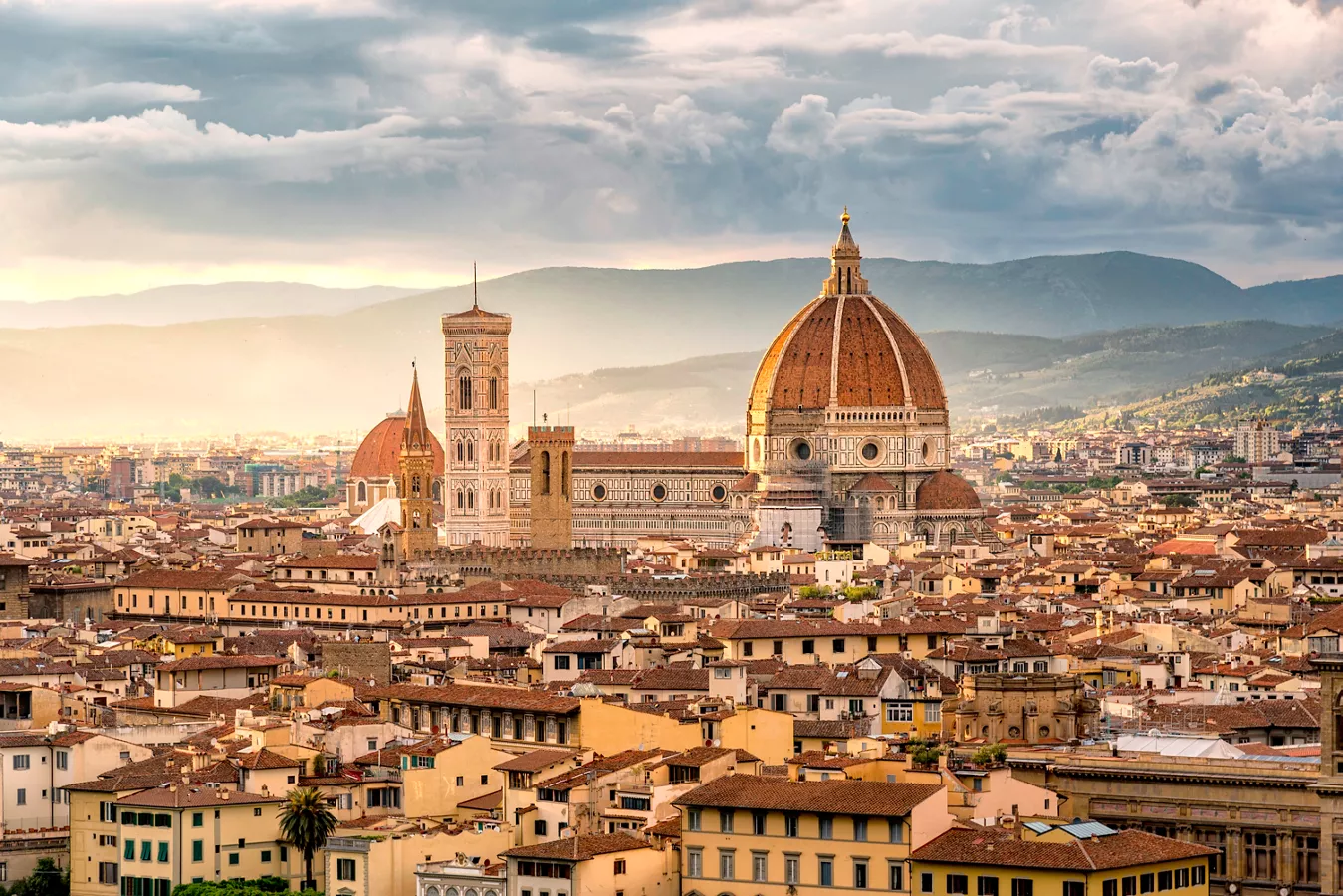 A walk along the Arno River is a must, both to admire its charming bridges and to soak up the atmosphere of a lively city. You'll pass lots of charming townhouses and quaint shops along the way, as well as the gorgeous Ponte Vecchio – a shop-lined bridge that's a must-cross for all travelers!
You'll find lots of street art to delight you in Florence too. There are some really inventive artists who like to subvert road signs with witty drawings (see Clet Abraham and Blub) or paint "underwater" historical figures on doors and walls!
5.Cinque Terre.
Cinque Terre is one of Italy's most spectacular coastal regions. Five villages dotted along the Ligurian Sea make up this stunning region, each with its own distinct character.
The best way to experience this beautiful area is by staying in one of the villages – Monterosso, Vernazza, Manarola, Riomaggiore and Corniglia – rather than just visiting them for a short time each day. This will give you the opportunity to explore the area more deeply and soak up the atmosphere.
Getting around Cinque Terre is easy and cheap by train. Buy a Cinque Terre card at the station and make sure you write your name on it (you'll need to validate it at each stop).
If hiking is more your thing, there are plenty of paths to explore. It's worth checking with tourist information before setting off if any of them have been closed due to landslides or are otherwise inaccessible.
For those looking for a little more action, a boat trip from village to village is a great option, especially when the tides are low. It also offers a different perspective on the villages and vineyards from the water.
6.Tuscany
Tuscany is one of the most popular regions in Italy and draws a huge amount of visitors each year. It is known for its cultural cities and beautiful countrysides.
The capital city of Florence (known as Firenze in Italian) is an absolute must see, as it is a hub for world class art and architecture. This is why it's a popular destination among history buffs, who will love the opportunity to visit some of the most iconic and impressive museums in the region.
Another must see is San Gimignano, a medieval hilltop town that exudes the quintessential charm of Italy. The picturesque streets of this town are lined with towers that light up at night, a sight that will take your breath away!
Tuscany is also home to a number of ancient castles that shoot up from medieval towns and lush vineyards. These impressive structures are still in use today as hotels, wineries and museums. Visiting one of these castles is truly an experience you will never forget!
7.Capri.
The island of Capri is an upscale getaway attracting crowds from across the globe who are looking for relaxation, fun and glamour. A hotspot for royalty and celebrities since the Roman times, the island is flush with world-class restaurants, breathtaking hikes, five-star hotels and chic shops.
The town of Capri is a delight to explore, with a network of narrow streets and squares that are a sight to behold. Piazza Umberto I is the heart of the town, with outdoor seating in expensive cafe-bars and a little terrace that offers stunning views over the Bay of Naples.
It's also worth taking a stroll on the Via Krupp, which zigzags down steep cliffs from Capri town to Marina Piccola at sea level. This is one of the best ways to see the dramatic coastline and a must for any self-respecting tourist!
It's also possible to take a boat tour of the Blue Grotto, but it's important to read what is included in the ticket and be sure that you're booking a tour with an authorized company. This is especially true if you're travelling with children!
8.Lake Como.
Lake Como is one of Italy's most beautiful lakes and a popular destination for visitors from all over the world. Known for its picturesque scenery and pristine blue waters, this stunning natural beauty has lured travelers for years and it's easy to see why.
There are so many things to do and see in this amazing region, so make sure you plan at least a few days of your trip here. This way you can truly experience everything this incredible place has to offer.
The best time to visit Lake Como is in the spring or autumn, especially if you want to avoid the summer crowds. The temperatures are mild, and it's an ideal time for swimming and enjoying the outdoors.
You can also go boating on the lake and cruise along the beautiful scenery. These tours are perfect for catching a glimpse of those opulent villas that have made this area famous.