Baltimore is home to a wide range of cuisines, from traditional seafood dishes to authentic Argentine food. The city's restaurants offer something for every taste and budget.
The Baltimore coddie is a local favorite that is made with hand-formed salt cod and potato cake and deep-fried between two saltine crackers. It is a popular treat that is often found in diners and delis throughout Charm City.
Recommended:-The 8 Best Places to Visit in Oregon.
1.Pastries at The Corner Pantry
It doesn't get much Chesapeake Bay-to-table than the oysters raised on this Southern Maryland aquafarm, roasted raw and then slathered with herb-Old Bay butter. They're so fresh, we can understand why chef Zack Mills calls them "uncommon." He also shows his range with non-seafood dishes, like chickenfried snakehead over Swiss chard and brown-butter grits with pickled hominy and a hot honey sauce.
Whether it's British crumpet with treacle butter or a cheese and avocado sandwich on a cheddar biscuit, The Corner Pantry consistently delivers. It's a Highlands bakery that isn't just known for its pastries, but its healthy breakfast and lunch options too.
In a city that's always pivoting and shedding and regaining, Baltimore's restaurant scene remains resilient. It's a testament to our culinary community, which supports its beloved establishments and keeps them running.
Fortunately, there are a number of tried-and-true local spots that have continued to thrive in the face of the pandemic. So if you're looking for the best food diced in baltimore, these are the places to head.
2.Crab Cakes at Jimmy's Famous Seafood
Crab cakes are one of the quintessential Maryland dishes. And there are plenty of great spots in Baltimore to get a big, jumbo, homemade variety.
While most restaurants offer a crab cake, few are better than the ones you can find at Jimmy's Famous Seafood. This no-nonsense Essex restaurant combines seafood and bar fare, with wall-mounted TVs on the side. It's also home to a James Beard-winning chef, Bill Addison.
The half-century-old, family-run eatery boasts a down-home menu that's frills-free. Its crab cakes are a hit among patrons, and the hefty servings pair perfectly with Jennings' excellent homemade sides like tangy potato salad.
It's one of the few places that offers a full-sized, broiled crab cake for $15 on Wednesdays. This colossal creation is made with jumbo lump crab, and it comes with fried fries, coleslaw, and a tomato slice.
Koco's pub is another favorite for big, jumbo crab cakes. They're served on a platter with fries, coleslaw, and garlic bread, but you can also have them in a sandwich or a roll. They're the size of baseballs, stuffed with plenty of crab and little filler.
3. Chicken and Waffles at Maggie's Farm
Known as the best brunch place in Baltimore, Maggie's Farm has been open since 2012 and has an incredible menu. Whether you're looking for a meal for the whole family or just a casual spot to grab a drink, this place is a must-try.
Founded by two Baltimore natives, this restaurant is a favorite of locals for its farm-to-table menu. It has a wide range of dishes to choose from, including their famous chicken and waffles that are made with hickory-smoked syrup and candied pecans.
This is a traditional soul food dish that can be enjoyed for breakfast, lunch and dinner. You can order the regular chicken and waffles or opt for the chicken and cheddar green onion waffles. If you're a fan of sweet dishes, you can try their hot honey butter sauce that pairs well with the waffles. They also offer takeout and outdoor seating, making it easy to enjoy your meal on the go. The restaurant has been recognized by top food critics and is a must-visit if you're in Baltimore.
4. Homemade Pita at Cypriana
Cypriana is a stylish, upscale restaurant with a spacious deck offering Cypriot & Mediterranean cuisine & drinks. It's also conveniently located across from Homewood Field.
The atmosphere here is very welcoming and relaxed. Maria and Vassos, the owners of Cypriana, are a lovely couple who love their customers and take great pride in serving up authentically Greek and Mediterranean dishes.
A tasting menu is a great way to try everything that the restaurant has to offer, from the homemade pita and hummus to their delicious grilled meats. There are also several vegetarian and vegan options to choose from.
The homemade pita is the perfect starter to any meal. You can dip it in tzatziki, slather it on a souvlaki sandwich, or even eat it straight out of the skillet. It's almost like a personal pizza! The best part is it's made fresh daily and is an excellent source of folic acid, vitamins A and E. It's a must try! So the next time you have an opportunity, stop by Cypriana and give it a go.
5.Crab Pie at Matthew's Pizza
It might not look pretty, and it might not be sexy, but crab pie is what makes Matthew's Pizza a fixture of Highlandtown. It's also an emblem of continuity, a constant that keeps the place going, even when the culture changes around them.
Matthew's Pizza opened in 1943, and their pies are baked in pans that emerge high-walled with crunchy outer crusts and tender, focaccia-like crumb. Their signature pie is a towering slice piled with mozzarella, freshly grated Argentine Reggianito cheese, lump crabmeat, caramelized onions and Old Bay.
The Crab Pie at Matthew's Pizza is a must-order for seafood and pizza lovers alike. This pizza is topped with backfin crab meat, hand grated mozzarella and imported cheeses, caramelized onions, and dusted with Old Bay seasoning.
It's a dish that perfectly captures what Baltimore is all about, and it's a must-try for anyone visiting the city. So head on over to Matthew's Pizza, order a Crab Pie and enjoy a day in Charm City! Afterwards, you can enjoy a cucumber salad that's simple and cleans your palette.
6. Fries at The Local Fry
When we think of Baltimore, we often imagine crabs, oysters, and rockfish – but a city's food scene isn't always defined by seafood. Instead, we're seeing more vegetarian options, international influences, and Black chefs representing Maryland food.
Irish ex-pat Kevin Irish and his wife Elizabeth bring an interesting twist to the classic French fry with The Local Fry in Federal Hill. Their global take on the dish includes 17 specialty fries, from Greek fries to kimchi pork fries.
The Bahn Mi is one of the best-selling specialty fries and a must-try. It's topped with Vietnamese-style spicy pork, pickled carrots and daikon, cucumbers, cilantro, and jalapenos.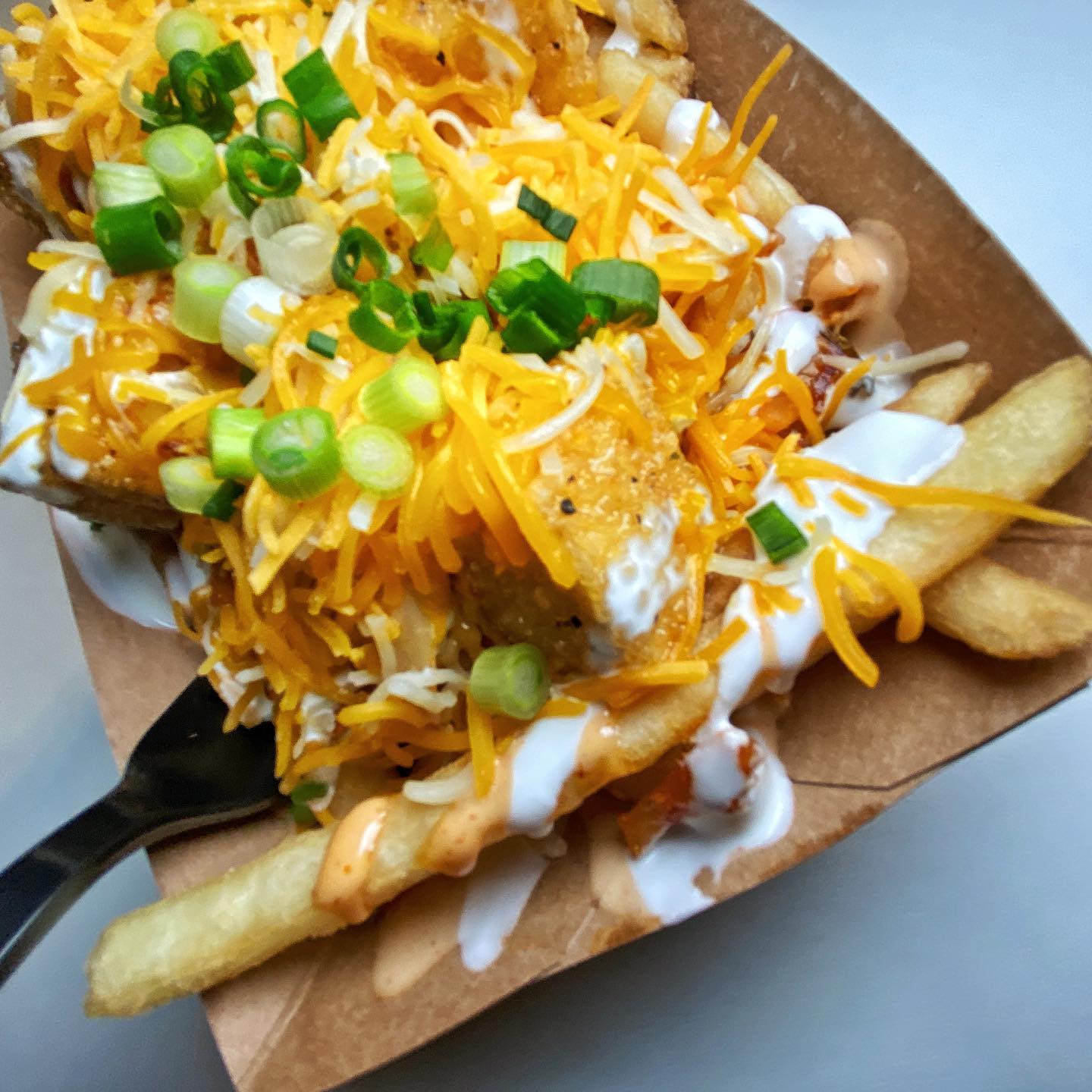 The fries are sourced locally from a dedicated fryer and clearly marked for GF customers. The fried potatoes are delicious on their own, or paired with Old Bay or malt vinegar to enhance the flavor. But it's the toppings that really make these fries stand out.
7.Coddies at Dylan's Oyster Cellar
Coddies are a Baltimore classic that's been served in almost every neighborhood for generations. They're fried salt cod and potato cakes sandwiched between crackers and yellow mustard.
A few years ago, owner Dylan Salmon started his casual pop-up concept inside a modest Mount Vernon incubator space (later renamed Sugarvale). His infectious love for the raw bar has led to a permanent spot in Hampden, and his attention to detail and commitment to quality are reflected in everything from his approachable menu to his approachable bar atmosphere.
He's also one of the best oyster experts in the city, and his selection is incredible. He specializes in sustainably farmed oysters from Virginia and Maryland, and most are delivered to his oyster bar within 10 days of harvesting.
The bar specializes in happy hour drinks that go well with seafood, including a 16 oz Natty Boh for $2 along with buck-a-shuck oysters and a whiskey shot. The staff is friendly and knowledgeable, and the food is consistently delicious.
8.Bocadillo at La Cuchara
At La Cuchara, located in the Meadow Mill Complex in Woodberry, you can get your hands on a traditional guava jelly dessert called bocadillo. Made from guava pulp and panela, this confection is consumed in Colombia, Costa Rica, Ecuador, Panama, and Venezuela.
While guava jelly is not a unique confection in the Hispanic world, it does have its own special flavor and texture. In addition to being used as a dessert, it's also a popular spread on bread.
It's also a popular dessert with the Basque people, as it is often served alongside grilled meat or cheese. It's also common to find a guava jelly dessert on the menu of Spanish restaurants.
For the best bocadillo in Baltimore, you can't go wrong with La Cuchara. This Basque cuisine restaurant is known for its fusion of French and Spanish dishes and its use of local ingredients.