Chicago is known for a lot of things, but its culinary scene is arguably one of the most exciting in the country. And with 23 Michelin-starred restaurants, you'll be spoiled for choice.
Whether you're looking for a hearty meal or something light and sweet, there's a restaurant in Chicago that will satisfy your cravings. Here are our picks for the best food in Chicago.
Recommended:- 8 Best Travel Insurance in USA
1.Deep-Dish Pizza
Chicago deep-dish pizza is a hefty pie with a thick crust, plenty of cheese, and a generous helping of meats, vegetables and tomato sauce. It's a meal in itself, and no one does it better than the city where it was born.
In 1943, Ike Sewell created a recipe that would take the pizza world by storm. He called it Deep Dish, and it was a revolution.
Like most pizza recipes, Chicago deep-dish pies are assembled upside down: A layer of cheese sits on the bottom, and then meat and vegetable piles go on top. Then, the top is covered with a chunky tomato sauce, protecting the cheese from burning as it bakes.
A key ingredient in Chicago's thick pies is their crust, which is made from wheat flour and sometimes semolina. It's also coated with oil to prevent sticking and fried for a buttery, biscuit-like taste.
2.Chicago Barbecue
Chicago barbecue is a fusion of American culinary traditions, rooted in African-American migrations from the Mississippi Delta and European settlement. It combines smoky meats cooked over direct heat with sweet sauce and served alongside a plate of fries or potato chips.
One of the most popular smoked cuts in this country is the rib, which has been honed to perfection by Chicago pitmasters. These smoky, tender nubs are roasted in a smoker over hardwood embers for tenderness and flavor, then covered with a rich, sweet red sauce.
A few years back, a renaissance of barbecue restaurants began, with some gaining national renown. These restaurants use modern gas-fired pits with digital thermostats, and are often fitted with logs for flavor.
Soul & Smoke, a Time Out Market residency led by husband-and-wife team D'Andre Carter and Heather Bublick, is a smoky favorite on the South Side. Their rib tips, apple slaw, and signature mac and cheese are crowd favorites.
Honky Tonk BBQ is another popular South Side spot for a quick bite of smoky goodness. The rib tips are marinated in a special blend of spices before being smothered with a sweet, tangy sauce.
3.Jibarito Sandwich.
A jibarito (pronounced "hee-bar-EE-to") is Chicago's savory twist on the Puerto Rican sandwich. Developed by restaurateur Juan Figueroa at Borinquen in Humboldt Park, this breadless sandwich ditches bread in favor of two crispy planks of fried green plantains, slathered with garlic aioli or mayonnaise and layered with meat (steak, pork, chicken or lechon), cheese, lettuce and tomatoes.
The jibarito is an icon of Chicago's Puerto Rican restaurants and has become as much a part of the city's culture as deep dish pizza, Italian beef or a hot dog that's been "dragged through the garden." It was one of America's first breadless sandwiches.
In the heart of Logan Square, Jibaritos Y Mas is the go-to spot for a jibarito that will leave you savoring every last bit. They've expanded to three locations but haven't forgotten what made them popular in the first place: golden plantains, a generous portion of steak and that satisfying crunch between the crispy plantains.
You can order a bistec jibarito con arroz, which comes loaded with thinly sliced steak and rice or a lechon jibarito con arroz if you're looking for a more traditional meal. There's also a vegetarian version and a serval soup option if you want something warmer to accompany your jibarito.
4.Steak
Steak is one of the most popular cuts of meat, and there are many reasons why. The most common are the fact that it's tender, delicious and a great source of protein.
Steaks are also incredibly versatile and can be cooked in a variety of ways. They are often served with a variety of different sides, including fried potatoes (chips), fried onions, mushrooms and tomatoes.
When choosing a steak, it's important to understand the type of beef you're looking for. There are different types of beef and each cut has its own unique characteristics, such as marbling, tenderness and price.
Regardless of what kind of steak you're looking for, there are several restaurants in Chicago that have it all covered. These include national steak house chains like Capital Grille, Morton's and Ruth's Chris, along with specialty steakhouses that serve Brazilian, Japanese and even robatayaki-style cuisine.
RPM Steak, an up-and-coming member of Chicago's serious steakhouse scene is the perfect place for a date night or celebratory dinner. With a menu of nearly two dozen unique cuts of beef sourced from the finest butchers across the globe, this River North steakhouse is sure to impress.
5.The Rainbow Cone
The Rainbow Cone might look a little odd on the plate, but it's actually quite tasty. It consists of five curious flavors: chocolate, strawberry, Palmer House (New York vanilla with cherries and walnuts), pistachio and orange sherbet, all layered and sliced into one smile-sparking cone.
Since it was opened by Joseph Sapp in 1926, The Original Rainbow Cone has been a Chicago staple. It's a family-owned and operated ice cream stand that draws customers of all ages, regardless of the season.
Despite the Great Depression, war, and other adversity, the Original Rainbow Cone has continued to serve locals from across the city. Today, third-generation owner Lynn Sapp runs the family business, and her granddaughters continue the legacy.
6.Pizza Puffs.
Deep-fried in a crisp, golden crust, these pizza puffs can be eaten as an appetizer or snack. They're also a great way to sneak veggies into kids' diets.
They're not as good for you as traditional homemade pizza dough, but they're a lot less labor-intensive and can be made ahead of time for an easy appetizer or hors d'oeuvre. They're also great for parties and game day snacks.
But what if you wanted to take the concept of pizza puffs one step further? How about making a version that's healthier and has more veggies?
If you've ever had a pizza puff, you know it's essentially a muffin-shaped pie filled with all of the toppings found on a classic pizza. It's a deliciously innovative pizza-inspired snack that can be enjoyed by the whole family and can be made in minutes.
A Chicago-based company that makes the original pizza puffs is still going strong 94 years after its invention. And it's a company that you can visit when you travel to Chicago on one of the city's popular food tours.
7.Flaming Saganaki.
One of the most popular appetizers across the US is flaming Saganaki. Invented in Chicago in 1968, this cheese dish involves frying kasseri cheese, then adding brandy and flambing it. It was quickly adopted as a Greek-American classic and has since become synonymous with restaurants serving it.
This is a quick and easy cheese appetizer to prepare at home. The key to perfect saganaki is choosing the right cheese. It should be a hard, yellow cheese like kefalograviera or kefalotyri.
You can find this cheese in most stores or at your local Greek tavern. It's a good choice for this recipe because it will not melt in the pan.
In Greece, saganaki is prepared in a small, two handled heavy bottomed frying pan called a sagani. It is a common Greek appetizer and can be made in many different ways.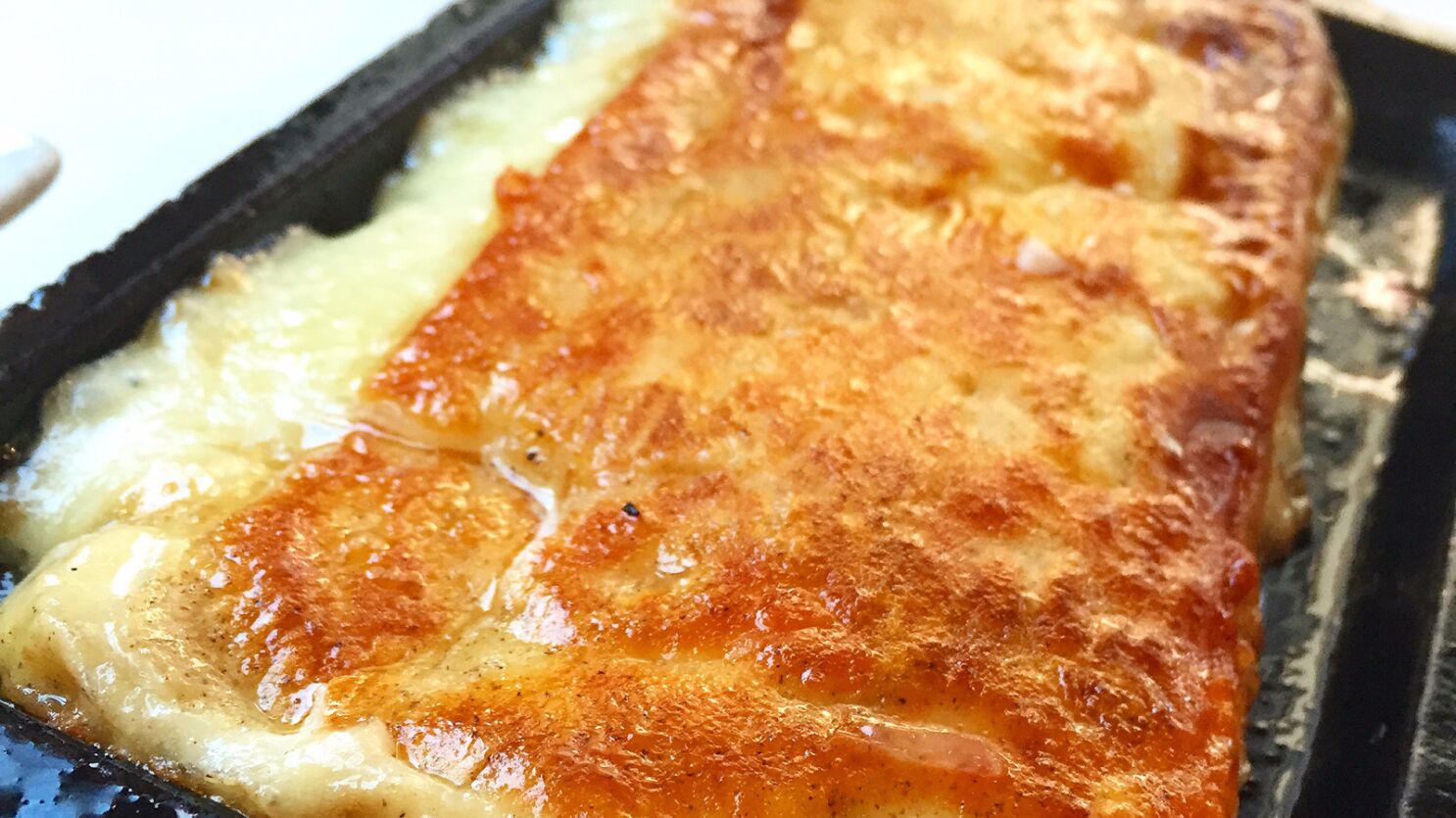 Plateia is an upscale and refined restaurant that features award winning Lamb Chops, Honey Custard Sweet Crepes, Biftekia, Chicken Skewers, Pastichio, Atlantic Grilled Salmon, Beet Salad, and of course Flaming Saganaki! The spacious lounge area is a great place to relax with a drink.
8.Italian Beef Sandwich
The Italian Beef Sandwich, also known as the Chicago-style beef sandwich, is one of the city's most famous dishes. It's an old-fashioned sandwich that features thinly sliced roast beef.
The meat is seasoned and slow-roasted before being simmered in light moisture and/or gravy (au jus) for additional flavor, then served on an Italian-style long roll cut in half. The sandwich is usually topped with sweet peppers and/or spicy giardiniera, both of which add color, texture, and plenty of extra flavor.
There are many variations of the Chicago-style Italian beef sandwich, but the key is to get a thick, long French roll with a high ratio of bread to beef. Then pile on shredded beef and ladle over au jus.
The jus is so good that you probably won't want to use ketchup or mustard on your Italian beef. Instead, Chicagoans usually top their sandwiches with either sweet peppers or spiced up giardiniera.