October is the perfect time for a honeymoon – it offers a variety of quality destinations across the globe and you can escape the crowds.
Honeymooners in search of a unique tropical island experience can opt to head to Bora Bora, a French Polynesian paradise filled with overwater bungalows, quiet beaches and romantic sunsets.
Recommended:-The 8 Best Hotels in Fort Lauderdale.
1.Corsica
If you're looking for a honeymoon destination that is both beautiful and secluded, Corsica might be the perfect option. The island boasts pristine beaches, dramatic mountain scenery, fortress towns and even a grueling hiking route.
Known as the birthplace of Bonaparte, this French island offers unspoilt natural beauty and an authenticity that's hard to find in many heavily visited destinations. You can explore fishing villages, hike the GR20, enjoy a boat ride or sample local delicacies.
You can also relive history by visiting Corsica's capital, Bastia. This upbeat city offers a dynamic atmosphere as well as a wealth of historical buildings and monuments to explore.
Alternatively, you could try a beach-lover's paradise like Plage de Palombaggia, the best of the island's sandy beaches. This spot is ideal for sunbathing and swimming in the crystal clear waters.
2.Reunion Island.
Reunion Island, a small French-speaking island in the Indian Ocean, is a paradise for nature lovers. Home to cirques, pitons and a live volcano, it offers something for everyone.
If you are a honeymooner that loves the idea of a tropical getaway, this is the perfect place for you! Reunion Island has a variety of activities for you to enjoy including canyoning, mountain biking and rafting.
The island also offers whale watching, diving and horse riding. You can even experience a helicopter ride to see the scenery, waterfalls and lagoon!
The best way to explore the beauty of this beautiful island is by booking a Reunion Island holiday package. This will help you to save money, get the best accommodation and make the most of your time.
3.Siena
Siena, located in central Italy's Tuscany region, is renowned for its medieval brick buildings and fan-shaped Piazza del Campo. In addition to the Palazzo Pubblico, the Gothic town hall, the square is home to a slender 14th-century tower that offers stunning views over the city.
The historic center of Siena is a UNESCO World Heritage Site, and one of the most visited tourist destinations in Tuscany. Here, you can find some of the most beautiful and unique monuments, churches and buildings.
Among the most impressive buildings in the city is the Duomo di Siena, a massive ornate cathedral that dominates the skyline of the city. You can climb to the top of this tower and enjoy the panoramic views over the city and its rooftops.
In the center of the city you'll also find Piazza del Duomo, which is a large square filled with interesting places to visit. From here, you can stroll through the narrow streets and discover some of the most charming restaurants in the area.
4.Reykjavik
Reykjavik, Iceland's capital city, is a great destination for honeymooners. The city offers a mix of world-class attractions, stylish shopping and lively nightlife.
The capital has a rich history and a vibrant culture, and is home to an eclectic mix of restaurants and cafes, making it a great place to explore. The city has plenty of places to stay, from boutique hotels in 19th-century buildings to modern 5-star chains.
There are also plenty of things to do in Reykjavik, including hiking and exploring the city's natural sights. If you're a fan of adventure, you can take day trips out to geothermal spas like the Blue Lagoon, see the Northern Lights or visit the Golden Circle.
If you're looking for something a little different to do during your stay, check out Perlan, a distinctive glass dome resting on five water tanks that now serves as a museum and café. Located on the hill of Oskjuhlid, it's a great way to soak up the scenery and see Reykjavik's skyline from a different angle.
5.Cairo
Located on the banks of the river Nile, Egypt's capital city is an ideal choice for honeymooners in October. It's home to many ancient monuments and cultural centers and offers a range of exciting activities for couples.
Cairo is a city of great contrasts. The coastal shoreline is lined with well-irrigated plantations, while the older inland quarters are dominated by desert landscapes.
The city has a population of 9 million residents, with the majority Muslim, and some remnants of old Italian, Greek, Syrian and Sudanese communities remaining in some areas. Cairo is also the center of political, economic and cultural activity in Egypt.
Its climate is Mediterranean with hot summers and mild winters. During the winter, temperatures can reach 35-36 degC during the day and 21-22 degC at night.
A great thing to do in Cairo is visit the Garbage City, a place where many people sort waste for a living. This is a fascinating way to see the culture and the people of Cairo in a unique way.
Another highlight is the Giza Pyramids. This is a place that you won't forget when visiting Cairo and it's one of the most beautiful sights in all of Egypt.
6.Mozambique
A tropical paradise that is as exotic as it is unspoiled, Mozambique is a dream destination for those who are looking for the perfect honeymoon. With an array of secluded islands, white sand beaches and endless oceans to frolic in, the country is sure to leave you with unforgettable memories.
The best time to visit is from May to October, as the weather is usually dry and pleasant during this period. However, the rains can start in November and December so you should prepare accordingly.
To truly indulge in this romantic holiday, you should stay at one of the many resorts on offer, which provide a range of luxury experiences. These include private beach huts, luxury hotels and secluded island retreats.
There are also a number of activities that you can do in and around the resorts including snorkelling, swimming and dhow cruises. You can even spend some quality time with your loved one savouring a candlelight dinner while sitting on the deck of your chalet.
7.Vietnam
If you're looking for a destination that's exotic, tropical and has some of the best beaches in the world, then Vietnam is definitely worth considering. This beautiful Asian country is a popular honeymoon destination thanks to its stunning natural setting and vibrant culture.
In addition to its beauty, the country is also one of the most affordable options for couples. With delicious cuisine, awe-inspiring architecture and a wide array of romantic activities, Vietnam is sure to be a memorable experience for newlyweds.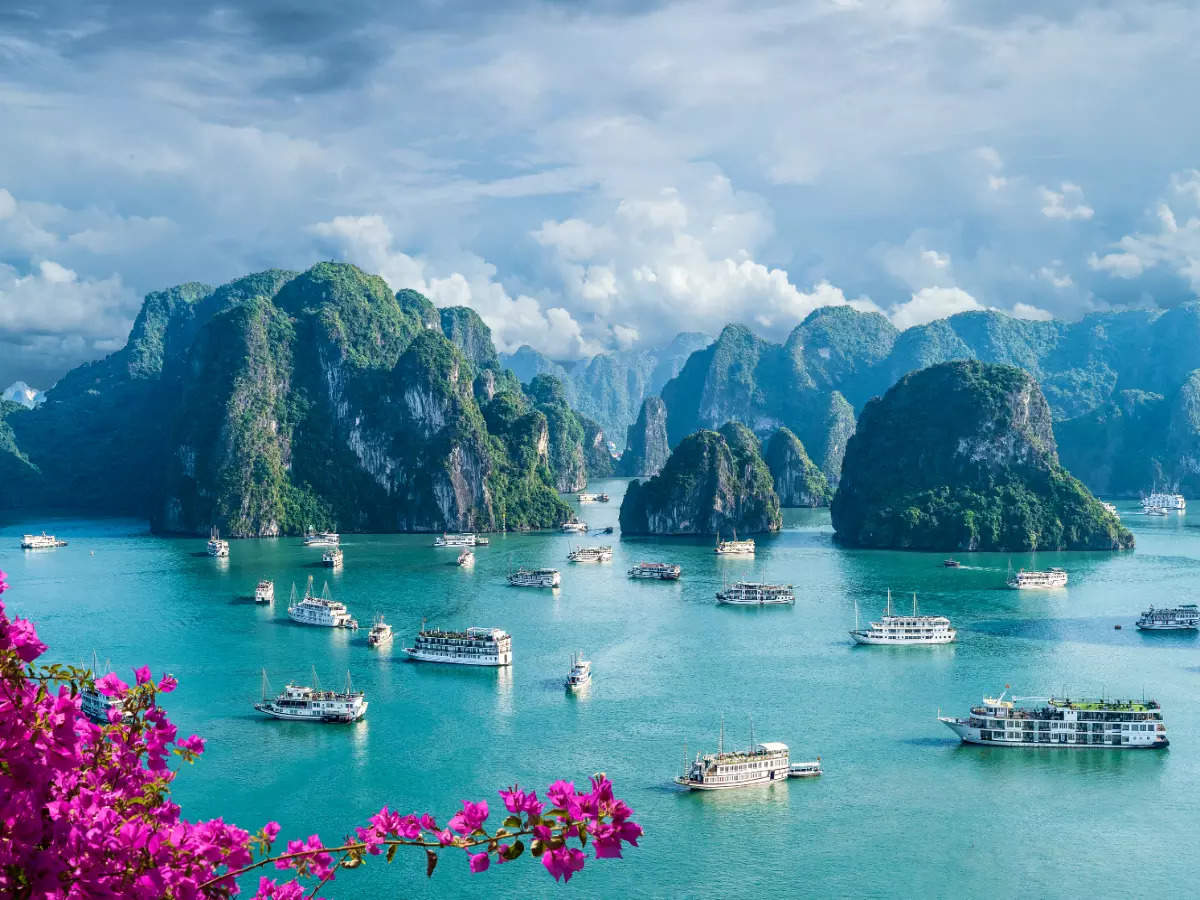 The weather is also quite nice, with clear skies and scant rainfall making it a great destination for outdoor activities. So why not plan a trip to Vietnam with your spouse this October?
The island of Phu Quoc is another ideal choice for couples looking for a tropical escape. Its sandy beaches rest along the pristine Gulf of Thailand and are surrounded by jungles and mountains, making it the perfect place for a romantic vacation.
8.Greece
Greece is a small country in south east Europe that is located in the Mediterranean Sea and surrounded by the Aegean and Ionian seas. It is a popular tourist destination because of its rich cultural heritage, beautiful beaches and islands, historic landmarks and world-famous cuisine.
Greeks are a people of strong religious beliefs and culture. Most of them are orthodox Greeks, and they celebrate major Christian holidays like Christmas, Easter and Pascha (Greek Orthodox Easter).
Athens is the capital of Greece and its largest city. It has a long and eventful history and is a vibrant and cosmopolitan center of economic, financial, industrial and political life.
The city of Athens has many modern buildings designed by international architects like Santiago Calatrava, Dimitris Pikionis, Stamatis Kleanthis and others. The city is also home to the New Acropolis Museum and many other historical monuments.
The cuisine of Greece is characterized by the use of olive oil, vegetables and seafood. It is a healthy and simple way of eating that is considered an example of the Mediterranean diet.