Aruba's powdery white sand and tranquil blue waters make it an ideal backdrop for a range of watersports. Many of the island's hotels offer beach access and can often be found overlooking some of the most beautiful beaches in the Caribbean.
There are many different accommodations available to travelers, from luxury resorts that overlook the ocean to more affordable options. Here are some of the best hotels in Aruba that can help you make your stay in this gorgeous Caribbean paradise a memorable one.
Recommended:-The 8 Best Places to Visit in Portugal.
1.Yoyita Suites Aruba
Located in Palm-Eagle Beach, Yoyita Suites Aruba features an outdoor pool and free private parking. It is around 1 km from Palm Beach and a 10-minute walk from Hadicurari.
Providing free WiFi, the hotel offers a 24-hour front desk and room service. All rooms are equipped with a flat-screen TV and a shower.
The rooms include a balcony and a kitchenette with coffee and tea making equipment. The bathrooms feature a hairdryer and bath sheets.
This accommodation also provides a safe deposit box. Each room comes with a wardrobe.
With a patio, the units have a fridge and a flat-screen TV with satellite channels. They are fitted with air conditioning and a private bathroom.
This property is set 0.5 km from Queen Beatrix airport and a few minutes' walk from The Casino At The Ritz-Carlton Aruba. It is also a 10 minutes' drive from California Lighthouse and St. Ann's Catholic Church.
2.Aruba Cunucu Residence
Aruba Cunucu Residence is a good choice for travelers looking to stay near the water. It offers spacious apartments with kitchens and free WiFi. It also features an outdoor pool and a fitness center.
It is located in a quiet residential area, but the island's best beaches are just a short drive away. Malmok Beach and Boca Catalina Beach are within a five-minute drive, while Hadicurari and Palm Beach are a six-minute drive from the property.
The apartments at Aruba Cunucu Residence feature an outdoor infinity pool and a fully equipped kitchen with a microwave and a refrigerator. Some rooms offer a private bathroom with a bath or shower.
This property also has a garden and barbecue facilities. Other amenities include free parking.
Aside from the pool, there's not much to do at the property, but the staff is friendly and the manager, Henk, is a wealth of local knowledge. Cunucu is a good option for couples and families seeking an affordable place to stay in a relaxed setting.
3.Agua Clara Eco Suites
Agua Clara Eco Suites is a budget-friendly hotel in Oranjestad that offers a variety of amenities for guests to enjoy. Its 9 well-appointed apartments feature kitchenettes and cable television.
The hotel also provides complimentary parking and an outdoor pool. It's a great choice for travelers who want to stay close to the action.
With a stay at Agua Clara Eco Suites, you'll be centrally located in Oranjestad, within a 15-minute drive of Eagle Beach and Leeward Antilles. This aparthotel is 2.4 mi (3.8 km) from Aruba Town Hall and 2.5 mi (4 km) from Renaissance Mall Aruba.
The hotel also offers a year-round outdoor pool. Its comfortable rooms include everything you need to feel at home, and a garden is available for guests to enjoy.
4. Brisas Studio Apartments
Brisas Studio Apartments is a 3-star hotel offering a number of amenities for travelers seeking a convenient base of operations for exploring Aruba. Its 3 air-conditioned rooms feature kitchenettes with refrigerators and stovetops, along with private furnished patios. The property also has a fitness center, which is helpful for those looking to stay active during their visit.
This quaint property provides guests with a variety of useful services and amenities, including free parking and a concierge service. A large tropical garden with palms, flowers and chirping birds is also on offer.
In addition to its oversized pool, the property boasts an outdoor jacuzzi and a massage centre. Other notable features include a large, well-designed spa, and an impressively large bathroom. The hotel's large-scale amenities and superior customer service, coupled with its excellent location, make it a top choice for travellers looking to experience the best of Aruba. The best time to book your stay at this impressive property is now! Compared to other properties in the area, it offers a competitive rate.
5.Vistalmar Ocean Suites
Surrounded by pristine white sands and sparkling waters, Aruba is one of the most visited islands in the Caribbean. And it's easy to see why: the island offers a range of accommodation, from luxury resorts to boutique getaways, all of which will leave you with memories that will last a lifetime.
There are few places on the planet that can rival the azure-blue waters and powdery white beaches of Aruba. And while the beachfront resorts that line Palm-Eagle Beach may be some of the most popular, there's also a handful of more intimate hotels to consider when planning your next trip.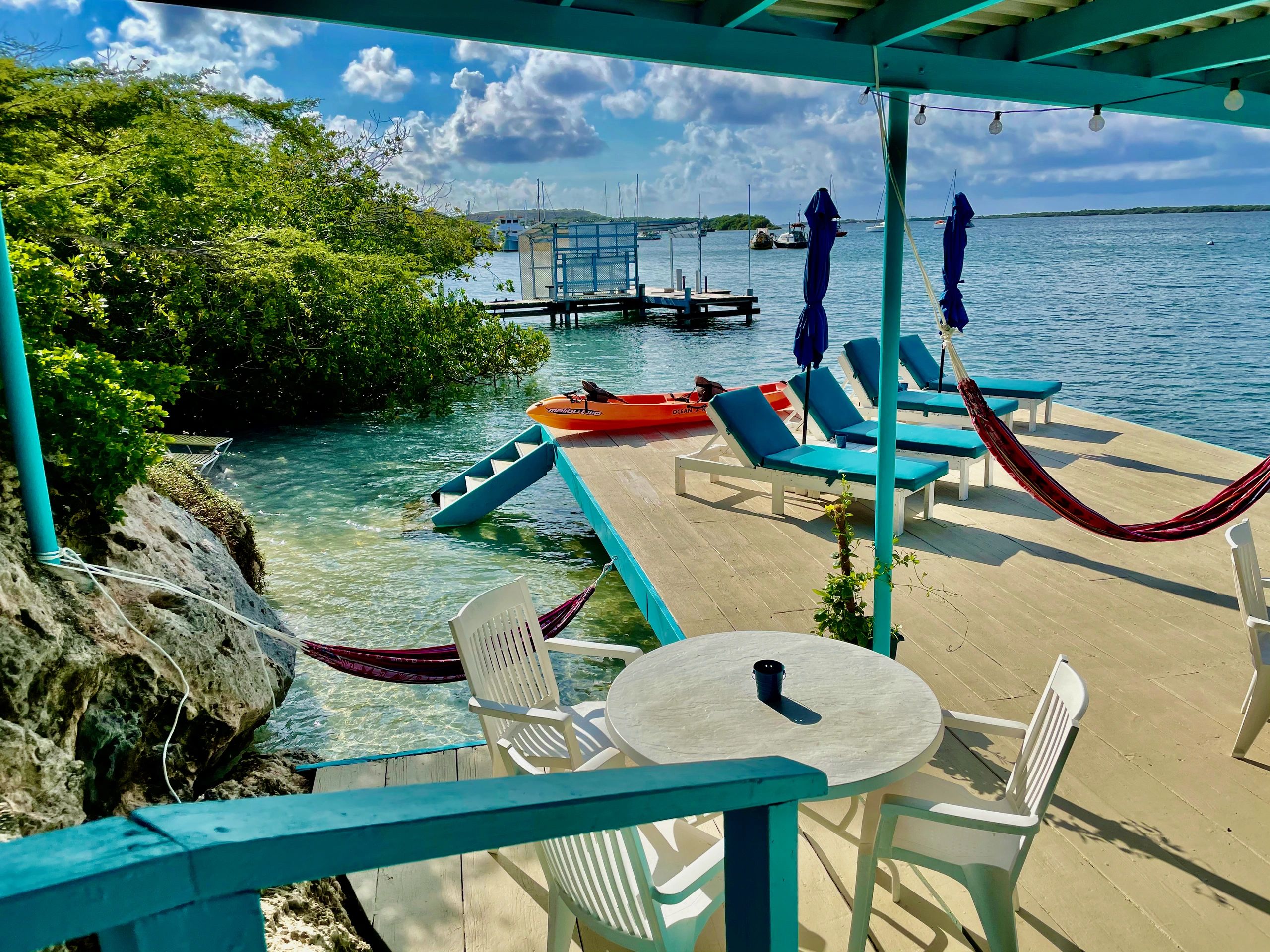 For a truly secluded, private beach experience, the best place to stay is at Aruba Ocean Villas, located in the tiny fishing village of Savaneta on the southwestern coast. Here, you'll find a selection of thatch-roofed, wooden-decked bungalows, complete with hammocks and freestanding bathtubs, all nestled in a gorgeous setting.
If you're looking to splurge, you can opt for an overwater villa with your very own private dining palapa. It's the only place on the island to offer this coveted experience, and it's perfect for couples.
6.Juanedu Suites
Located in Oranjestad, Juanedu Suites is a 10-minute drive from Aruba Town Hall and Royal Plaza Mall. This 4.5-star hotel is 4.3 mi (7 km) from Bushiribana Gold Smelter Ruins and 4.8 mi (7.7 km) from Links at Divi Aruba.
The hotel features a number of amenities including an outdoor pool, a fitness center and free WiFi in all areas. It also has the largest room in its class.
One of the best parts about this hotel is its affordability. Guests can enjoy a double room for under $107 per night.
This budget-friendly hotel offers a handful of useful amenities such as an outdoor swimming pool, a fitness center and free self-parking. It's a good option for families visiting the area.
The hotel's 8 air-conditioned rooms feature microwaves and flat-screen televisions with the aforementioned best-smart-named, most obvious, or best-of-the-menus-possibly-in-a-smaller-size-space. Other cool features include complimentary wireless Internet access and digital programming for your entertainment. The hotel also has a large swimming pool, a fitness center and the most notable small-room-sized bathroom.
7.E Solo Aruba Apartments
The E Solo Aruba Apartments is a well-designed hotel that features an impressive amount of amenities. It is located in the heart of Oranjestad, which means it's close to all the action. This is a 4-star property that is packed with in-house facilities to improve the quality of your stay. Its big kahuna is the large and impressively designed pool area with a hot tub. Moreover, it has a top of the line gym and free Wi-Fi in all rooms. It's also the cheapest hotel in town and features some of the most comfortable accommodations you'll find in Oranjestad.
I've scoured the internet to find out which is the best hotel in aruba and I think you'll agree that E Solo Aruba Apartments has it all.
8.Aruba Harmony
Harmony is an intimate, charming and inviting resort ideally located in Oranjestad for those who want to enjoy a tranquil break from the city buzz. Ideal for those visiting Aruba on business or a romantic getaway, the resort offers studio apartments and suites that are well equipped with modern amenities to ensure a comfortable stay.
The bright, spacious apartments are fitted with light wood furnishings and air conditioning. They include a living room, TV and kitchenette. A characteristic Dutch or Arubian breakfast is served every day for a surcharge, and free membership to the beach club and a cooler are available.
Guests can find shopping and dining options in the area, and Queen Beatrix International Airport is a short drive away. There is also a gym on site and a tour desk. Alternatively, guests can relax in the garden or at the pool. The onsite staff is friendly and helpful, and the property is located close to public transport. This hotel is a great option for those seeking a comfortable, relaxing and affordable stay in Aruba.